'podcasts'
Audio clip: Adobe Flash Player (version 9 or above) is required to play this audio clip. Download the latest version here. You also need to have JavaScript enabled in your browser.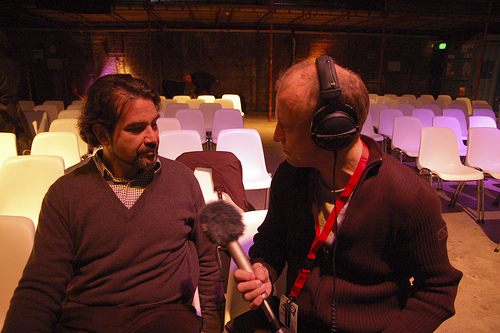 Edward Shanken interviewed by Peter Troxler, Photo by Anne Helmond

The discussion about what stimulates innovation in the creative industries quickly touches on the topic of intellectual property rights. So far, it is commonly argued that the only solution to stimulate innovation is the legal protection of intellectual property through copyright, trade marks and similar mechanisms.
However, there is a growing number of repositories of user-generated content: YouTube, Flickr Wikipedia. They use open content models; and Creative Commons Licensing has become a popular extension to traditional copyright terms.
During PicNic I had the chance to speak to a few people about these questions, people who are all active in New Media. Using the example of Creative Commons Licensing, I discussed the potential of open content and its possible pitfalls.
With academics Rachel O'Reilly and Edward Shanken, new media consultant Esa Blomberg, Music Futurist Gerd Leonhard, and the practitiones Hessel van Oorschot (TribeOfNoise), Gijs van de Heuvel (Nederland P), Marcus Miletich (Engerwitzdorf) and Seb Chan (Powerhouse Museum).
---
---